Discover more from Hawaii Bulletin
Island innovation in focus. Hawaii-based science, technology, startups and entrepreneurs, featuring local leaders, creators, educators, and more.
Over 5,000 subscribers
Stargazing from space and summits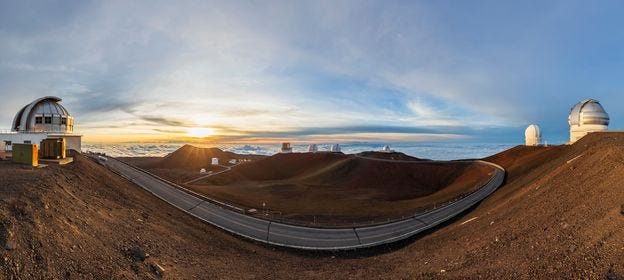 What was your favorite Hawaii sci-tech story of 2021? Send me your picks at hawaii@hey.com, or ping me on Twitter or Instagram!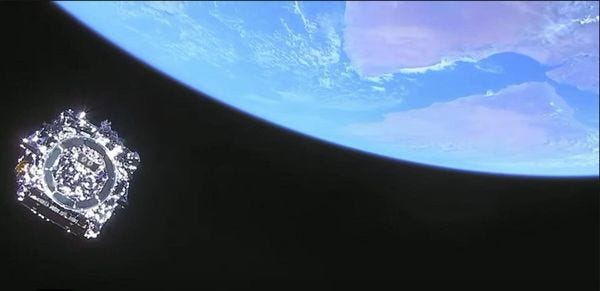 The James Webb Space Telescope was successfully deployed into its intended orbit approximately 28 minutes after being launched.
As a science buff, I was delighted to see so much mainstream interest in last week's Christmas morning launch of the James Webb Space Telescope. Worldwide live television coverage, front page headlines, and yes, even social media memes. Fellow Bulletin author Jane Wells reported on it.
After a year largely dominated by billionaires comparing the sizes of their rockets, it was a great reminder how universal astronomy and space exploration can be.
Christmas also brought the release of the star-studded film "Don't Look Up" on Netflix. And while it isn't really about astronomy, it's nice to see deadly space rocks can still capture the imagination. (If only Leonardo DiCaprio and Jennifer Lawrence were depicted as working with Pan-STARRS.)
But if you really want to know how things are going in astronomy, you'll want to hunker down and read "Astro2020."
The Decadal Survey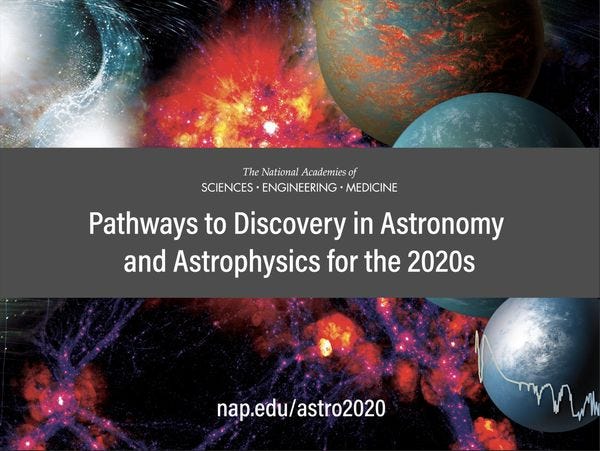 "Pathways to Discovery in Astronomy and Astrophysics for the 2020s" identifies the most compelling science goals and recommends critical near-term actions to support the foundations of the profession.
One of the most fascinating institutions in the world of science are the decadal surveys.
There is no shortage of competitive spirit in the pursuit of scientific discovery. Who will discover the next life-sustaining exoplanet? The next transformative energy storage technology? Even in the name of human advancement, the thrill of being the first is a universal motive.
But the United States National Academies also set bold, globe-spanning collaborative goals by compiling and publishing 10-year plans. In a time when even large companies find three-year plans unrealistic, I'm hard pressed to think of any other industry or sector where there are long-term collective efforts to tackle projects that are too big and too vast for any one entity to accomplish.
So there are decadal surveys for Earth science, planetary science, and astronomy and astrophysics.
There have only been two surveys for Earth science (2007-2017 and 2017-2027) and two for planetary science (2003–2013 and 2013-2022) so far. By comparison, the astronomy survey has been published since 1964, when Lyndon Johnson was president and four years before the first space telescope was launched.
Each survey reports on the current state of astronomy, identifies research priorities, and makes recommendations to governmental agencies on how to prioritize scientific funding within astronomy and astrophysics.
The just-launched James Webb Space Telescope? It was identified as a priority in the 2001-2011 survey. Talk about planning ahead.
The latest and seventh report, "Astro2020," just came out last month. And among scientists, its release and conclusions were the focus of intense anticipation and predictions. It was like waiting for Tom Hanks to open the Oscar envelope for Best Picture of the Next Ten Years.
And the winner is...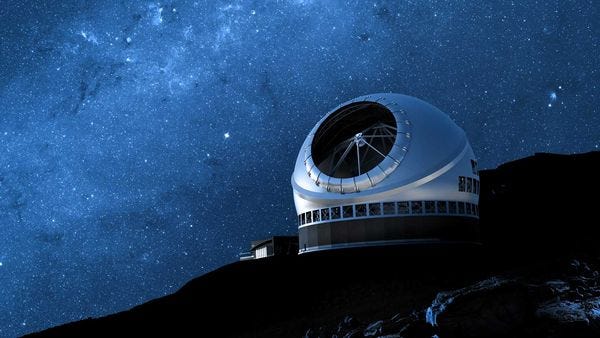 "The Thirty Meter Telescope seeks to advance scientific knowledge while fostering connection among the partner countries and their citizens, who represent over half the world's population."
Hawaii serves as a nexus of the global astronomy community, so it's fair to say people in and connected to the islands were especially interested in what "Astro2020" had to say about projects and facilities in the Hawaiian Islands.
There was a lot to be excited about.
The report stated that "Participation in the U.S. Extremely Large Telescope (ELT) Program is the highest priority recommendation for ground-based astronomy. That means more focus on, and hopefully more funding for, the Giant Magellan Telescope in Chile, and the Thirty-Meter Telescope in Hawaii.
The report says that the combination of the two, one in each hemisphere, "provides observational capabilities unmatched in space or the ground, and opens an enormous discovery space for new observations and discoveries not yet anticipated."
Okay.
Not everyone wants a new telescope built atop Mauna Kea. Specifically, a vocal group of native Hawaiians do not want it, and protestors have interrupted construction. But you can count me as a clear exception to any assertion that all native Hawaiians are in opposition. Certainly, the general public supports it.
I wanted to hear how Hawaii scientists received the news.
Stargazers say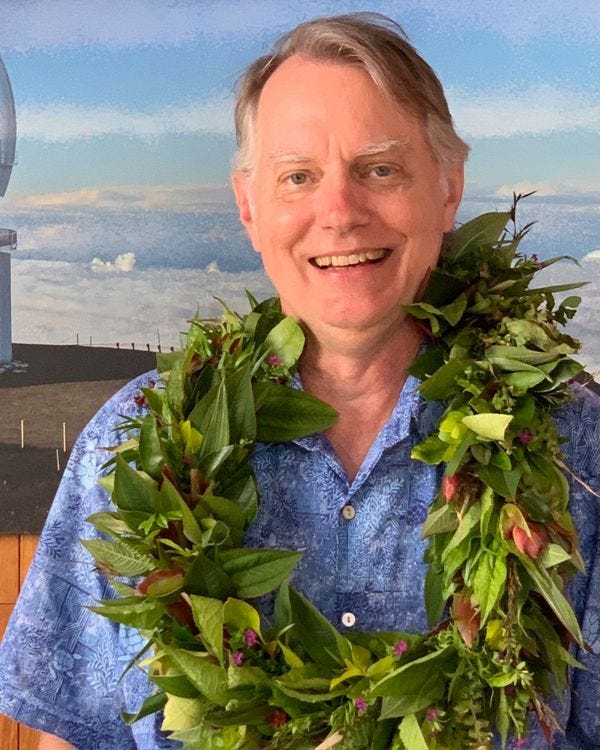 Doug Simons was named director of the University of Hawaii Institute for Astronomy in April, after serving 12 years as director of the Canada-France-Hawaii Telescope. Image courtesy @CFHTelescope.
"It was an important announcement for the future of Hawaii astronomy," said new Institute for Astronomy director Doug Simons. "The number one ranking of the US ELT program creates a pathway for future Federal funding for TMT, [although] it will take several years for that process to be complete and there are many steps along the way."
"This recommendation was a validation of the exceptional quality of Maunakea as an astronomy site globally," he added. "This is also a reflection of the caliber of research, technology, and education expertise we currently have in Hawaii astronomy, which serves as a foundation for any plans going forward."
John O'Meara, chief scientist at the W.M. Keck Observatory, concurred.
"Each of the three scientific pillars highlighted by the report... have deep roots in astronomy done in Hawaii on Maunakea," he tells me. "The site is unrivaled, as are the capabilities, both in terms of instrumentation and facilities but also in the extraordinary people who enable the science to take place every night."
O'Meara says the report's recommendations can benefit Hawaii and its existing observatories through better alignment and coordination between ground- and space-based missions, and funding for observing instruments and facility upgrades.
It's also an important statement in support of national programs.
"This recommendation is an expression by the survey committee that for the United States to remain in a leadership role from the ground, it must have a balanced portfolio including at the largest scales."
Both Simons and O'Meara acknowledged it was important to include native Hawaiians in the astronomy conversation.
"Partnering with the community to deepen important relationships, advancing local workforce development, and embracing opportunities to learn from and support Hawaiian knowledge and ways of knowing are also important takeaways from the report," Simons said.
O'Meara added that the report acknowledges the need for "a critical focus on increasing the diversity in astronomy so that it better reflects the population and talents of places where it is done."
Space versus summits?

The GMT will be located at the Las Campanas Observatory in Chile's Atacama Desert, using seven mirrors to create a single telescope effectively 25 meters or 85 feet in diameter.
With orbiting instruments like the James Webb Space Telescope scanning the cosmos, is there less need for observatories on the ground?
"The question of space vs. ground based astronomy is asked often," Simons acknowledged. "JWST is just one example of many satellites that have been used to perform research that is often impossible from the ground.
"That said, ground based facilities (like TMT) also support research that cannot be performed from space," he added.
The JWST and TMT operate at different wavelengths, and have different light-gathering capabilities.
"JWST is designed to detect extremely distant objects that are highly redshifted, hence are invisible at optical wavelengths," he explained. "The other difference (light gathering power) goes heavily in favor of TMT, which makes it ideal for performing spectroscopy that is critical for understanding the underlying astrophysics of objects."
O'Meara notes that the JWST needs the near-absolute cold of space to detect what it's designed to detect.
"Webb goes to much farther out in the infrared, [and] at those wavelengths, the air is very warm compared to the 'heat' of the objects you are looking for," he said. "Thus, Webb is kept only about 40 degrees above absolute zero, and it can only do that in space."
Ultimately, both approaches are important to scientific discovery.
"This combination of capabilities is what makes the use of space and ground based observatories together so powerful -- they aren't designed to 'compete' with each other," Simons concludes. "Rather, they fill in performance gaps in each other's capabilities, yielding a more complete understanding of astronomical objects by using both of their strengths to perform research."
Header image courtesy Westend61/Getty Images.