Hilo to host first international Tropical AgTech conference in June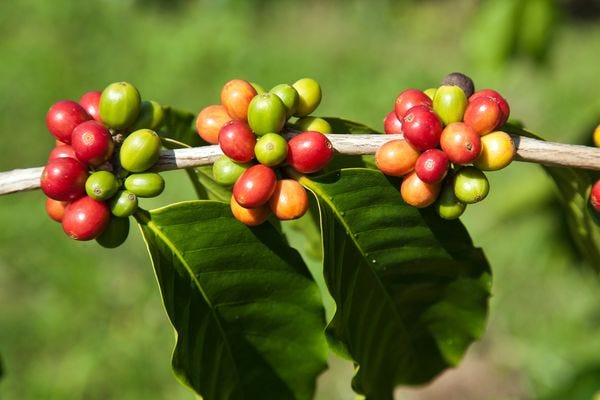 If you like what you read, please share Hawaii Bulletin with a friend! Forward a copy of the email newsletter to a fellow tech enthusiast. or share a link to hawaii.bulletin.com on your Facebook or LinkedIn profile. Mahalo!
Now that climate change has the whole world on edge, phrases like "sustainability" and "food security" are no longer buzzwords. They're a necessity. And for an isolated island chain like Hawaii, we have no choice but to tackle the challenge head on.
Technology is a vital part of the solution. With both land and labor scarce, agriculture needs to be more efficient, less wasteful, and ultimately scaleable if it is to support an entire state.
Feeding ourselves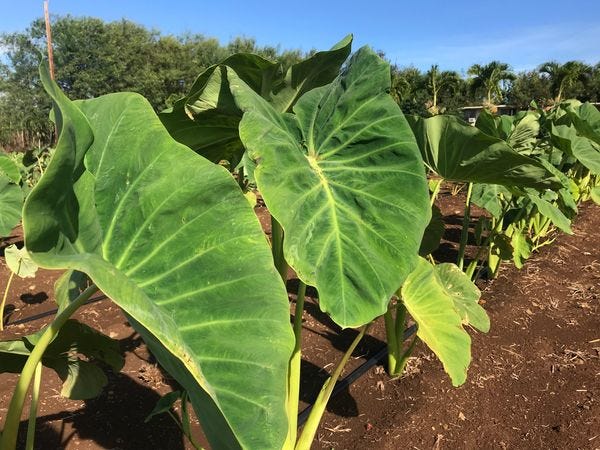 A taro farm in Waimanalo run by UH and used for research and farmer education.
Hawaii imports over 80 percent of its food (at an annual cost of $3 billion), and ironically, exports much of the food that it grows. That means when ships and planes stop coming — whether due to terrorism, natural disaster, or a pandemic — things can get dicey quick.
As we ponder our future, however, we can look to our past. With sustainable practices and thoughtful management, ancient Hawaiians were once able to support a population of up to a million (or at least over half a million) with only the resources they had in the islands, with the ahupua'a system and sophisticated aquaculture.
Like many communities around the world, Hawaii has made food security a priority. In 2016, Gov. David Ige set a goal to double local food production by 2030. You can get a UH degree in Sustainable Community Food Systems. But actually achieving these goals is complicated. It's going to take a multitude of approaches, countless stakeholders, and several strategies.
In June, a unique mix of local, national, and international experts will gather in Hilo for the first International Conference for Innovative Solutions in Sustainable Tropical Agriculture. Its organizers hope that Hawaii can exchange knowledge with other tropical regions around the world that are facing many of the same challenges we are. And they see technology as the most promising way to overcome them.
I'm excited to say that I'll be joining them.
Among the many hats I wear, tech and agriculture are among the most important. How I ended up connecting with farmers is a long but not especially interesting story, though, so you can skip this next section without guilt.
Starting with Smart Yields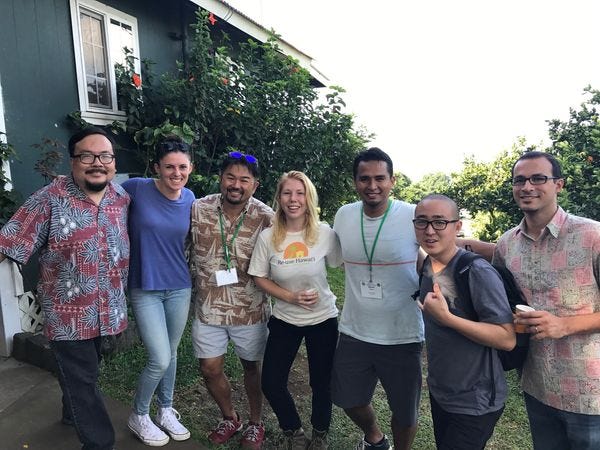 The Smart Yields team in 2016 at a coffee farm in Kona.
While I'd been in regular orbit around the Hawaii startup scene for years, my first foray into an actual startup came via my long-time friend Vincent Kimura.
We'd worked together in the 1990s at an international trade organization. At the time he was a college intern studying environmental science at Oregon State University, and he went on to earn his Master's at the Thunderbird School of Global Management.
While I was busy figuring out how to be a husband and dad and taking nine years to complete my four-year journalism degree, he was bouncing around Asia, connecting with business leaders and researchers. He eventually returned to Hawaii where he built a green technology consulting practice.
Many of his clients were farmers. And in 2015, he decided he wanted to focus his talents on helping them.
In order to apply to the Blue Startups accelerator, he recruited me and another friend of his, Isar Mostafanezhad, then an engineering grad student at UH. We co-founded Smart Yields, an agricultural technology company hoping to make "big ag" farm innovations accessible to small farms.
Blue Startups accepted us to its sixth cohort, and helped us find mentors, investors, co-founders and team members. They also patiently held our hands as our big idea and sure-fire strategy changed again and again and again.
Related Reading: Blue Startups hits lucky number 13
Smart Yields went on to participate in several other accelerator programs, including the Elemental Excelerator and the Laudato Si Challenge hosted by the Vatican. Vincent's perseverance earned him and Smart Yields more than a few awards and accolades.
I was a terrible co-founder, mind you, keeping my day job and missing dozens of meetings. Isar went on to found his very own, very successful high tech startup. But Vincent was committed, a true believer. Against all odds, Smart Yields kept rolling, developing software, hacking hardware, and finding customers — both in Hawaii and on the mainland.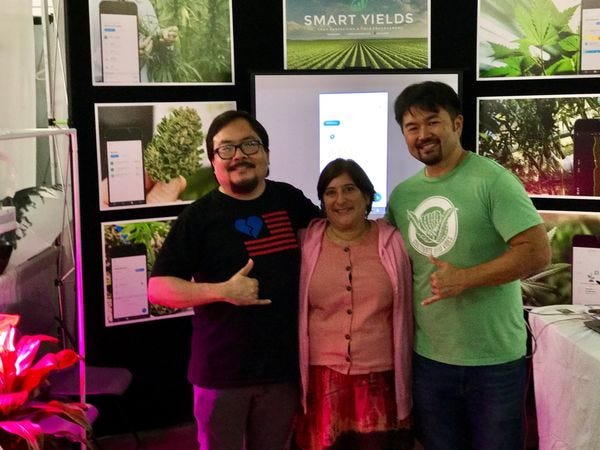 Smart Yields at a cannabis expo with one of our many brilliant advisors.
We dabbled in everything from school farms to indoor cannabis growing, from Hawaii Island coffee to vast fruit orchards around the Rocky Mountains. If failure is the best teacher, we were the teacher's pet.
(Vincent now wants to set up a local chapter of the Failure Institute.)
That said, Smart Yields perseveres, with a few small projects and a perennial pile of possibilities. The team is very small, and none of the principals are getting paid. And at the start of this year, Vincent decided to take on a day job, helping to lead the latest startup incubator hosted at the University of Hawaii. As usual, he has ambitious goals when it comes to helping UH students and researchers become successful entrepreneurs.
I agreed to succeed him as Smart Yields CEO. And when that was announced, my day job of fifteen years came to an abrupt end. So now, I'm officially an entrepreneur, an independent consultant, a freelancer.
Or as my kids describe it, "unemployed."
Still, the timing made sense. Who isn't hitting the reset switch these days? After last year, I feel silly when I remember how scared I was of taking that leap of faith. I'm enjoying being my own boss — even my one employee is easily distracted and struggles with deadlines.
And Smart Yields soldiers on in this its seventh year, our two leading projects an app for coffee farmers and a research project focused on farmer mental health. And as a newly minted CEO, I get to participate in industry events, like the Tropical AgTech Conference.
Big ideas, small farms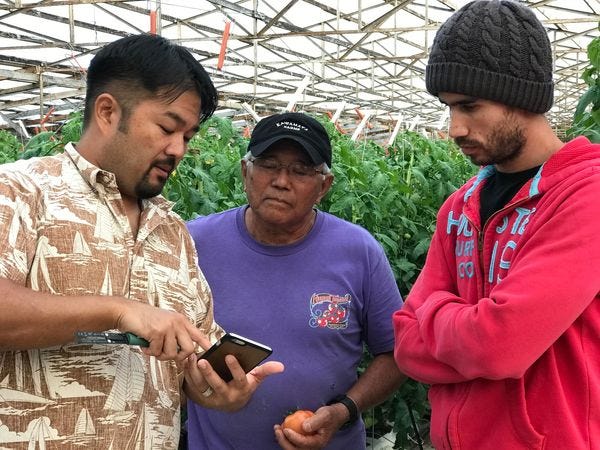 Vincent demonstrating the Smart Yields app at Kawamata Farms in Waimea.
When you think of agriculture, do you think of a farmer toiling away with his hands on a small plot of land, or vast fields of crops harvested by corporate behemoths like Cargill, Monsanto, and Syngenta?
"Big ag" is where you'll find the most advanced agricultural technology, for sure. Farm robots, drones and driverless tractors, and yes, genetically modified crops. When your product is measured in thousands of tons, you're going to be able to invest millions in high tech tools and precision agriculture .
Agriculture is a trillion dollar industry in the U.S. In Hawaii, it generates about $583 million annually. And yes, several "big ag" companies have operations in the aloha state... to the chagrin of many.
But both nationally and locally, small and medium sized farms produce an outsized proportion of the food we eat. The figure ranges from over 30 percent to as much as 80 percent. Either way, smaller farms are important, and with Hawaii's renewed focus on food security, they're critical. We wouldn't be able to live off pineapples, even if we still grew them by the millions.
These small and medium sized farms do not typically have access to robots and drones and driverless tractors. In fact, many don't have access to more basic technologies, whether due to costs or resistance to change.
And many of the challenges that farmers face in Hawaii are tied to our climate. Fortunately, we have a lot of company in our crowded latitude.
Around 40 percent of the world's population lives in the tropics, and by 2050, the tropics will be home to most of the humans on Earth. Despite the wet weather, however, the tropics are also home to the highest concentration of the world's hungry.
These statistics drove the planning of the Tropical AgTech Conference in June. Hawaii farmers and researchers have a lot to share, but we can also learn a lot from other regions.
'Opportunity and urgency'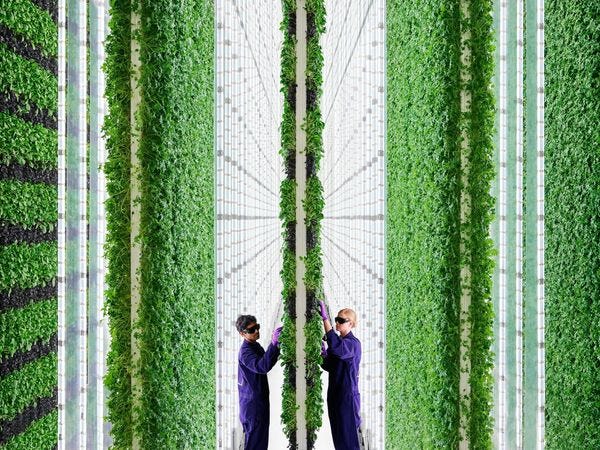 One of the largest vertical farms built by Plenty in San Francisco.
The conference is built upon many long-time collaborations between public and private agencies and entities in Hawaii. Planning is being led by "scientist entrepreneur" Jim Wyban and Jason Ueki, who led the Hawaii Island Business Plan Competition (HiPlan) before pivoting to agriculture last summer.
"When we look at the tropics, ag in the tropics is more similar to Hawaii than Hawaii is to the mainland," Wyban explains. "It's a very different scale — pretty much everyone is individual farms working with shovels in the dirt.
"It's really ripe for transformation," he says.
"Increasing Hawaii's food security requires increasing productivity, efficiency and profitability at the farm and throughout the food system," Ueki says. "Innovation and technology are essential to profitable small farm production that is competitively priced to imports."
In fact, he says, profitability isn't enough if we want to scale production — including value-added food manufacturing — and reduce our reliance on imported food.
"Our farms need to be prosperous," he says. "We simply cannot scale an industry unless it is economically viable."
Still, bringing driverless tractors to Hawaii isn't the answer.
"There's not a lot of agtech that we can take off the shelf and put in Hawaii because of scale and cost," Ueki explains. "Most of our farms are smaller than five acres."
"The core issue of the conference is becoming aware of all the current bells and whistles of agtech, and then integrating what's relevant to Hawaii, what things could be applied or applied with some tweaking," Wyban adds. "We know pricing has to be addressed, some of these solutions are too expensive, but maybe there are some new business models we can explore."
These topics are incredibly important to Hawaii's future, they say, and should be getting more attention.
"In Hawaii, it seems that we focus on environment and culture, but not so much on the ability to produce enough food, the economic viability of our farms or the quality of life of our farmers," Ueki says.
And Wyban says the conference is bringing in many impressive experts.
One name that stood out to me was Arama Kukutai, who was just appointed CEO of Plenty, a global leader in the indoor vertical farming space. By condensing hundreds of acres of farmland into the size of a big-box retail store, the company says it can increase crop yields by 350 times compared to traditional farming.
Wyban, meanwhile, was excited to be welcoming Shu Watanabe, head of CropScope at NEC Corporation in Japan. The firm's AI-based analytics platform is being deployed in nine countries to optimize the value chain for coffee, sugarcane, tomato, spices, and other crops.
Noting that NEC already has a presence in Hawaii through providing passenger screening tech for our airports, Wyban is expecting the CEO of NEC America, Masahiro Ikeno, to attend.
The conference will also feature David Slaughter, director of the Smart Farm Initiative at the University of California Davis, Robbert Blonk of Hendrix Genetics Aquaculture in the Netherlands, genomics and CRISPR expert Megan Hochstrasser, and Academy- and Emmy Award winner Richard Chuang, founder of CloudPics and now d1n0.
World-class experts coming to Hilo — along with world-class experts already in Hawaii — presenting cutting-edge agricultural technology.
"Despite the quality of speakers, people in Hawaii don't know who they are," Wyban notes. "I think they should."
Header photo courtesy John S Lander/Getty Images.