Geek Beat: Mixed Plate of Tech News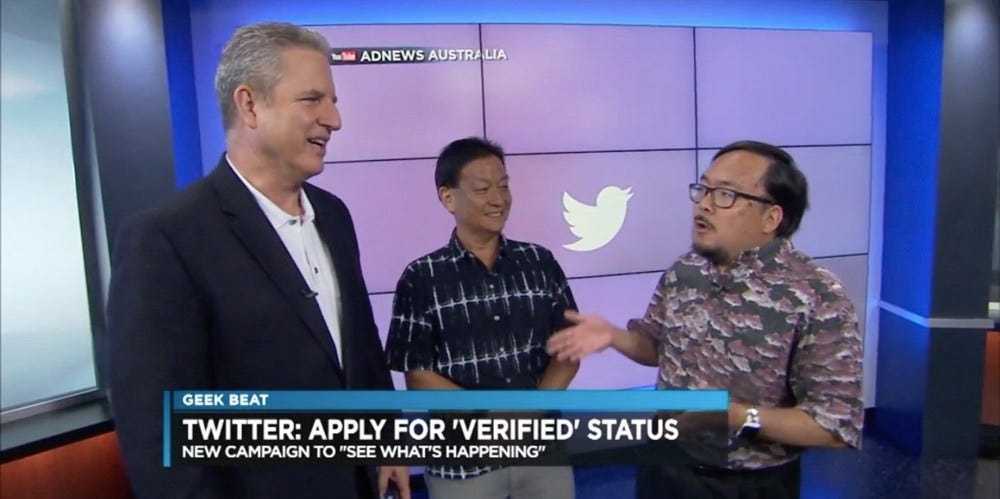 For this morning's "Geek Beat" segment on the Hawaii News Now Sunrise morning news show, we tackled a trio of tech stories:
The ability to applied for "Verified" status on Twitter: I've coveted the "blue checkmark" since they first showed up, but up until now there was no way to request one. Now there's a form you can fill out, although Twitter says they will still prioritize accounts "of public interest."

Friday's deadline to upgrade to Windows 10 for free: After nearly a year of aggressive tactics to get consumers to move over from Windows 7 and Windows 8 (tricking people into upgrading, in some cases), it will cost $119 after Friday, July 29, 2016, a year after Windows 10 was first released.

The acquisition of Yahoo! by Verizon for $4.8 billion: Yahoo! was once the "front page of the Internet," and worth over $100 billion. But the advent of search engines and social networks pushed Yahoo! further and further into the shadows. Still, Yahoo! boasts a billion users a month, a solid audience (and ad network) to boost Verizon's online initiatives (which includes AOL, acquired last year).
You can watch the video embedded above, or on YouTube.