Hang Gliding Business a 'Dream Come True'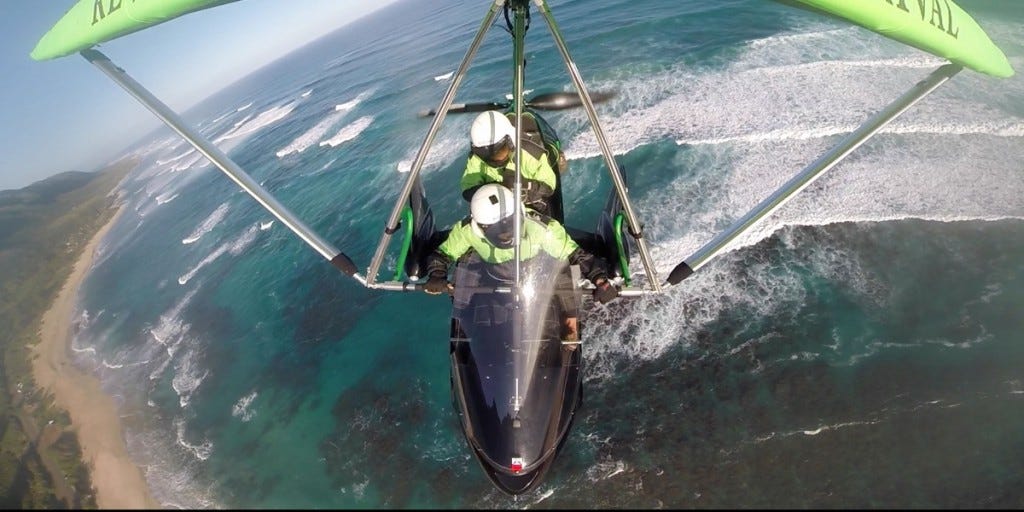 Eric Nakamoto has spent five years chasing the poetic but precarious dream of flying for a living, giving up a stable teaching job, selling his Aiea condo, and taking off for the mainland on a wing and a prayer.
"I had to seek training on the mainland because almost everyone currently flying trikes (powered hang gliders) here in Hawaii tried to prevent and discourage me from pursuing this," he tells me. "I basically moved to the West Coast years ago with two large suitcases, an old Toyota Camry, and a pocket full of change, and slept in hangars."
"I finally settled in Florida and spent time living in a trailer and flying," he says. "I literally locked myself in a trailer, studied, and flew. That's all I did. But I was free, I was flying."
Nakamoto went on to complete a 2,500-mile cross-country flight from Florida to Wisconsin for Trike Fest and the Oshkosh AirVenture, flew into more than 40 different airports, and learned to navigate every class of airspace and in every kind of weather. With hundreds of flight hours under his belt and a brand new aircraft to his name, he finally returned to Hawaii late last year.
On Sunday, Nakamoto will host a native Hawaiian blessing for his new business, Hang Gliding Hawaii.
"It's been a dream come true to finally fly out of Dillingham Airfield... the mana is strong at Kaena Point and Makua Valley," he wrote on Tuesday. "We shall pay our respects to this sacred land that we are all privileged fly over."
Nakamoto offers half-hour, 45-minute and hour-long flights in an open-cockpit ultralight powered hang-glider (described as a "flying motorcycle"), as well as photos, videos, and souvenirs for passengers.
"Now it's time for me to share this awesome experience with as much people as I can," he said. "The emotion they have after each flight is my motivation to fly... it's what I was destined to do."
Nakamoto is eager to tell his story, even offering a free flight for some good word of mouth. I confessed, however, that no matter how thrilling it might be, I'd be too scared to go hang gliding. As passionate as he was about the flight experience, Nakamoto was just as prepared for questions about safety.
"Powered hang gliders are considered to be one of the safest forms of flight -- if the engine quits, it can glide down safely because it doesn't need a motor to land," he writes. "The aircraft is also equipped with a rocket-propelled parachute that allows the entire aircraft to safely reach the ground at a slow descent rate while deployed."
His aircraft is a new Evolution Revo, a Florida-made ultralight trike that he says can cruise at speeds in excess of 100 miles per hour. As for qualifications, Nakamoto says he has a perfect safety record and describes himself as "the highest rated FAA-certified instructor in Hawaii," with additional credentials for ground instruction and light sport aircraft repair and maintenance.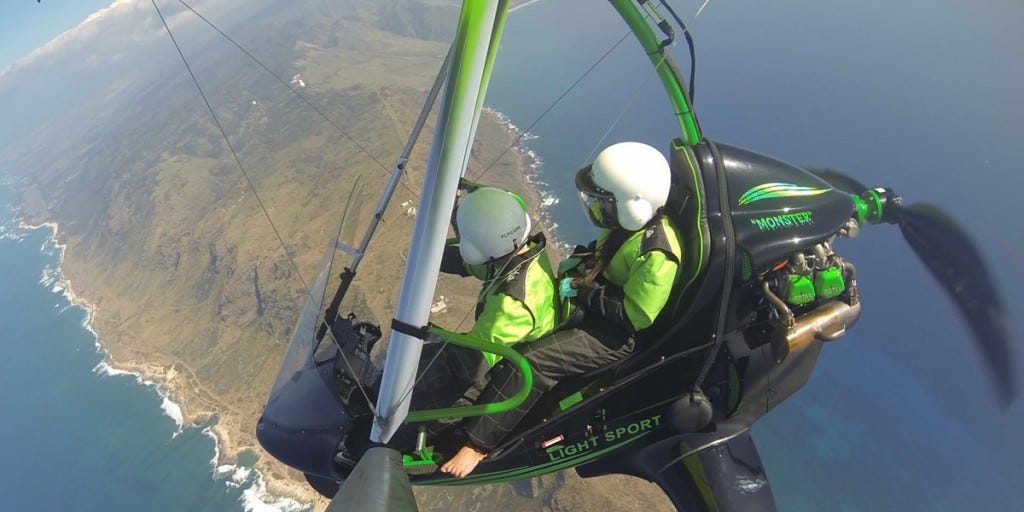 Nakamoto offers flights seven days a week, all in the morning, weather permitting. He promises remarkable open-air views of Makua Valley and the Leeward coast, Waimea Bay, and Ka'ena Point. And if you'd like, he can even let you take the controls.
"This is the closest feeling you'll get to flying like a bird but with the safety and comfort of an engine," he writes.
Although he's only been taking customers into the clouds since February, he's happy to point people to his positive reviews on Yelp, on TripAdvisor, on Facebook, and on Google. One of the many five-star reviews was written by his dad, Ed Nakamoto. "My son has come a long way," his father said. "I am so proud of him!"
Eric Nakamoto says he is looking to attract the "free, independent traveler" who's coming to Hawaii and looking for a unique experience, but he does offer discounts for kama'aina (as well as for military, students, seniors, couples, and groups).
For more information, or to book a flight, you can visit HangGlidingHawaii.com, or call (808) 222-9492.