Vinyl Lovers to Convene at Hawaii Record Fair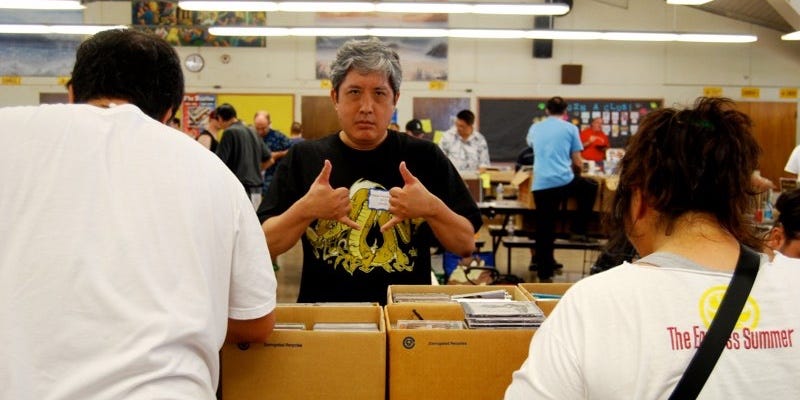 My wife and I love music. My kids love music. But while my wife and I have fumbled around with vinyl records, eight-track cartridges, cassette tapes, CDs and MP3s (my wife even working at the late Tower Records), our 17-year-old daughter barely remembers MP3s, and today our offspring live entirely in streaming services (most recently dropping Spotify for Apple Music).
Oh, sure, the ability to hear pretty much any song you want to hear at any moment through a shiny glass slab in your pocket would seem magical in 1970. But there's something about vinyl that's still irresistible.
Indeed, although nearly every medium since has come and gone (even digital music downloads are now on the decline), vinyl sales have been growing every year over the last decade. Now, they can't make new records fast enough.
Hawaii has more than its fair share of vinyl collectors. You might even say there's an established vinyl culture here, withRoger Bong keeping tabs on the community at Aloha Got Soul since 2010. Hawaii Public Radio raised money with its "Almost New Record Sale" for years; the Friends of the Library moves a lot of records at its annual book and music sale. And for the last several years, a hui of independent music stores and collectors have gotten together to put on the Hawaii Record Fair.
https://www.youtube.com/watch?v=TwKVHRY9aa0
On Sunday, the fourth annual fair will be held at the McKinley High School Cafeteria (familiar to anyone who's gone treasure hunting at the Friends of the Library annual sale). The event is organized by Hungry Ear Records, which has been around for fifteen years and recently moved from Kailua to town. Sponsors include Aloha Got Soul, Jelly's Hawaii, 808 Shows, AudioEngine, Audio Lab Hawaii, JWM Acoustics, and Vinyl for the People.
"All of Hawaii's biggest vinyl retailers, resellers and collectors will be there," reads the website. "So why not make a day of it?"
One of the special collectibles that will be available at this year's Hawaii Record Fair is the second release from Aloha Got Soul (which has expanded from a blog to an indie label). The 45 vinyl single features "Nothin Like Dat Funky Funky Music" by renowned island musician Mike Lundy.
The "Hawaiian funk" record is the second single featuring tracks from Lundy's "The Rhythm Of Life" from 1980. The record even features a special etching.
For more information on the Hawaii Record Fair, visit HawaiiRecordFair.com or check out the Hawaii Record Show page on Facebook. You can save on general admission by buying tickets online in advance (through 6 p.m. tomorrow). Advance tickets are $8 for early admission at 9 a.m., or $4 general admission at 10 a.m.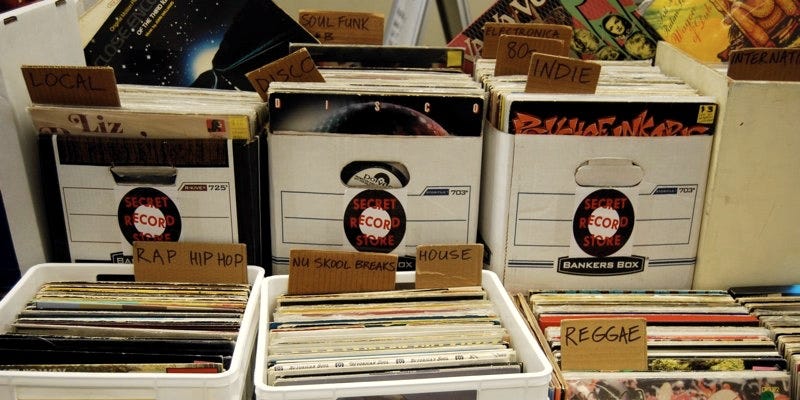 Photos courtesy Hawaii Record Fair.