Discover more from Hawaii Bulletin
Island innovation in focus. Hawaii-based science, technology, startups and entrepreneurs, featuring local leaders, creators, educators, and more.
Over 5,000 subscribers
INPEACE widens pathways to starting a local business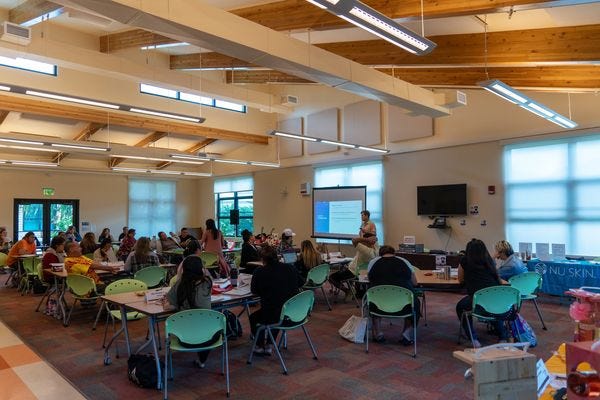 One of the many facets of tech I'm tracking is the Hawaii crypto space. While you can look forward to more coverage in Hawaii Bulletin, you can also visit HawaiiCrypto.com, or join our Hawaii Crypto group for Hawaii residents on Facebook.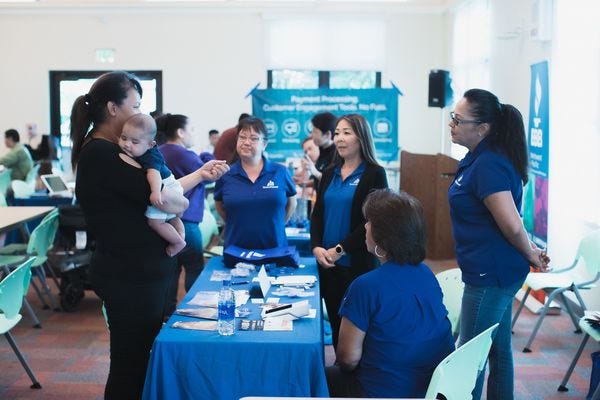 An INPEACE "Small Business Resources Day" where service providers showcase the resources they can provide to help new small businesses succeed.
When surveying the breadth and scope of Hawaii's innovation ecosystem, and the relatively recent explosion in the number of startup accelerators and business incubators, it's easy to assume that the emergence of these local resources are rooted in the rise of the Internet, the global broadband boom, and the mobile app era.
At least, that was my narrow view, having been mostly excited by the opportunities introduced by telecommunications technology.
But entrepreneurship isn't limited to people looking to launch the next Instagram, and while the founders of one startup might dream of a multimillion-dollar exit, others might simply strive to provide the means to support a family or community.
A recent mention of a new West Oahu Center for Entrepreneurship caught my eye, and I sought to learn more. And what I found was only the latest initiative of a robust, multi-faceted Native Hawaiian-focused nonprofit that has been building an impressive pipeline of services for nearly 30 years.
Introducing INPEACE
While I had seen the acronym before, I figured it was tied to peace studies and international relations, something that has also strong roots in Hawaii.
Instead, it stands for the Institute for Native Pacific Education and Culture. And while I had stumbled across news of the West Oahu Center for Entrepreneurship (proposed last year as a Leeward Community Small Business Incubator Project), it was only one branch of a sprawling giving tree rooted in Waianae.
"We have several programs in three main areas," explained Sanoe Marfil​, Chief Programs Officer of INPEACE. There's Education, Equity, and Economics.
"Our longest standing program is our 'grow-your-own teacher' program, which has been around for 30 plus years for individuals who are interested in becoming teachers and teachers who are interested in increasing their credentials."
A signature focus of INPEACE is early education.
"We look at family-child interaction, preschools, home visiting schools, as well as a program that is really unique in that we are trying to normalize early childhood education and brain development," Marfil said. "That program goes door to door to families at home with babies to see if they're interested in some kind of preschool program or FCIL (Family–Child Interaction Learning) or even home visits."
"We are actually advocating for anybody and everyone who has a preschooler — and not just for our services, we talk about drop-off preschools and PID (Partners In Development) and Keiki O Ka Aina and those kinds of things."
The expansive INPEACE mission, "the empowerment of individuals, families and communities driven by Native Hawaiian values," means a whole-family approach. Thus, another major pillar of its offerings is family economic capacity building.
Called Ho'olu Waiwai, the program leans on research that shows that increased economic stability for families positively affects children's academic and long-term economic outcomes.
Since 2014, it has helped decrease the average debt per participant by $9,690, totaling $87,214 in overall debt reduction. It has also helped parents secure over $132,000 in grants and aid through FAFSA.
"First came family literacy around financial education, that was the program that had started this whole idea," she said. "But in our 'Keiki Steps' program, we had families who are selling small things, earrings and and jams and those kinds of things, and so the entrepreneurship idea had come about."
Expanding entrepreneurial education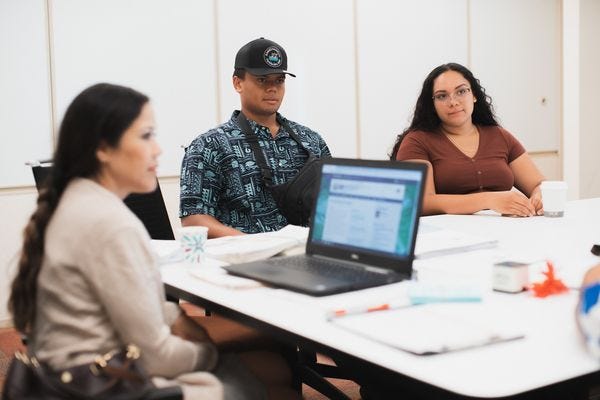 INPEACE helps youth become entrepreneurs as well, partnering with the Business Action Center to help people to register their business with the state.
The extension from family economic capacity building into entrepreneurship was a natural one, especially for the head of the Ho'oulu Waiwai program.
"I've been with INPEACE for 20 years already," said Lisa Pakele​, business development program manager. "I started with Keiki Steps, and I was helped and supported all through my years with INPEACE to grow and develop and also start my own business."
When offered the chance to lead Ho'oulu Waiwai five years ago, Pakele realized her strength was the network and relationships she had built over two decades.
"What I realized is there are so much people out there that have so much knowledge, and through partnerships and relationships, we've been able to support businesses or people anyone who wants to start a business," she said.
And by anyone, she means anyone.
"It's really supporting them wherever they're at — whether it's an idea, or they just started selling things and didn't have their GE (state General Excise tax license), or just got their GE," Pakele said. "In the journey of business there's so much failing that happens before you get that little bit success, even after deciding to take that first step."
And participants do not have to be part Hawaiian.
"We can serve anybody, any business that wants to have support, it doesn't matter what kind of business or even where they're at in their business," she said.
That said, INPEACE is based in West Oahu and services families in and around Waianae, home to the most native Hawaiians and a frequently underserved and threatened community. Clients are often reluctant to engage at first.
"Oftentimes as an organization, we we are accused of babying our participants," Marfil said. "But the way we look at it, we're holding their hand as we build that trust factor — as a grassroots organization, trust is the biggest strategy we have."
And INPEACE follows families' winding journeys to stability and success, from raising healthy children to getting an education to becoming teachers or business owners.
"When things get tough, they have to provide for their families, because these people are not traditional students — life is real," she added. "We are able to take a step back, hold their hand, and take the time that those families need and give them the resources that they need."
To date, the program has helped over 150 new businesses, ranging from jewelry makers and T-shirt printers to home services, health and beauty products, and food products.
"It's a really a wide range of businesses that we've been able to work with and support," Pakele said.
A new center for success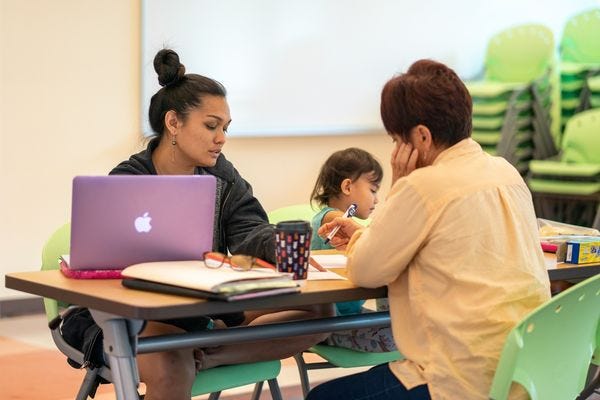 One-on-one business coaching through INPEACE provides support, guidance, and encouragement from expert mentors, in person and virtually.
Ho'oulu Waiwai is currently headquartered at the Kamehameha Community Learning Center in Māili. But recently awarded funding will help INPEACE open a permanent location.
INPEACE received $5 million from novelist and philanthropist MacKenzie Scott in February and $500,000 in federal funding last month.
"We weren't providing these services in an actual location," Pakele clarified. "Now we can bring resources here to Kapolei, having a space for businesses to have access to different resources, whether it's equipment or workshops or in-person business coaching."
While the pandemic helped INPEACE demonstrate that it could operate anywhere at any time, Pakele is excited to have a physical space to provide regular access to services. And the first office space is just the beginning.
"It's growing as we go, hearing the needs of the community and working to provide what they need," she said. "And we will continue to learn, visiting different incubation centers."
She noted she was very impressed with Hub Coworking in Kakaako.
"I would love to have such a huge beautiful space like that," she said.
Related Reading: Coworking comes to Waikiki via 'The Hub'
The location of the West Oahu Center for Entrepreneurship will be announced "very soon," Pakele said.
She said she is also proud by the partnerships INPEACE has built with other like-minded organizations, including the Small Business Development Center, the Patsy T. Mink Center for Business and Leadership, DBEDT, Innovate Hawaii, and the Hawaii district office of the Small Business Administration.
Ultimately, INPEACE and Ho'oulu Waiwai is one of the most accessible onramps to the Hawaii innovation ecosystem. Pakele notes that one of her clients recently entered a program hosted by Mana Up.
"We would like to provide support for our clients to be prepared to scale their business and access other programs like Mana Up," she said. "And we are thankful for partnerships like DBEDT and Innovate Hawaii for providing financial support to help four of our businesses participate in the 2021 'Made in Hawaii Festival.'"
Related Reading: Hawaii Rising aims to elevate Hawaiian entrepreneurs
"The difference with us is really this idea that they can come as they are — they don't have to have a business plan, they don't necessarily have to have everything in order," Marfil reiterated. "We will help you with the process whatever that process looks like for you, we build the relationship and support them at the pace at which they can go."
For more information, visit INPEACE.org, or follow INPEACE on Facebook, Instagram, or LinkedIn. I also recommend you check out the many events they host, including several coming up in May.
All photos courtesy INPEACE.