Wetware Wednesday to Celebrate Dev League Grads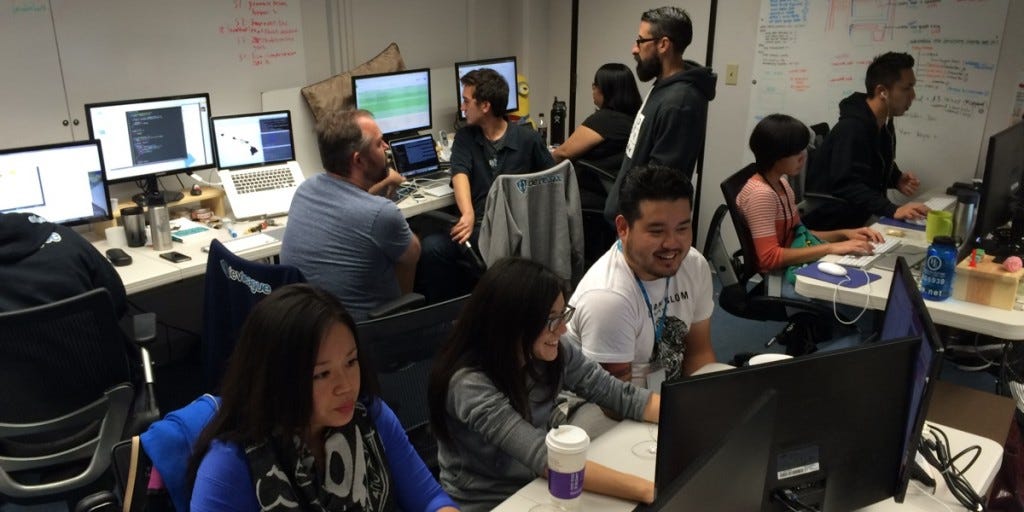 This month's Wetware Wednesday networking mixer for software developers will celebrate Honolulu's newest certified software developers.
The evening's featured guests will be the latest 22 students (half of them women) of Dev League, a programming bootcamp founded by Russel Cheng and Jason Sewell. The bootcamp offers an intensive, full-time 12-week program (and a new 26-week part-time course) to turn novice programmers into professional developers. The course teaches full-stack Javascript development and covers over 20 languages and frameworks.
All nine graduates of Dev League's first two cohorts found jobs, six of them local and two on the mainland, with salaries ranging from $40,000 to $60,000 ("with one huge outlier that earned way more," Russel says). But the program is not for everyone.
"DevLeague is a super-intense programming bootcamp," the site notes. "Dev League is only for the toughest, bravest, most-willing-to-do-what-it-takes guy or gal willing to do the work to get what they want."
And while tuition is a hefty $10,000, Dev League offers scholarships and tuition-assistance loans and even participates in a federally funded workforce development program.
Dev League's fifth cohort starts April 18, with applications "overflowing" for the sixth, which begins May 26. Russel says they limit cohorts to 20 students each to maintain a 5-to-1 student-to-instructor ratio.
Wednesdays event is a geeky coming-out party for Dev League's latest cohort, and since the event has always drawn both developers and people looking to hire them, it's going to be a pretty promising graduation day. And according to Wetware Wednesday organizer HTDC, the evening's sponsors will "get the first pass at hiring the new graduates."
Those sponsors are DataHouse, which bills itself as "the largest independent consultant firm in Hawaii," Rocket Communications, a San Francisco-based enterprise design consultancy Enterprise UX Design Consultants located in San Francisco (headed by former Hawaii-based startup star Michal Anne Rogondino), and CGI, a global information technology and business process services provider.
The event will be held on Wednesday, April 8 from 6 p.m. to 8 p.m. at M Nightclub at Restaurant Row. There will be free appetizers, free validated parking, and a no-host bar, and if you're interested in attending, you should register online.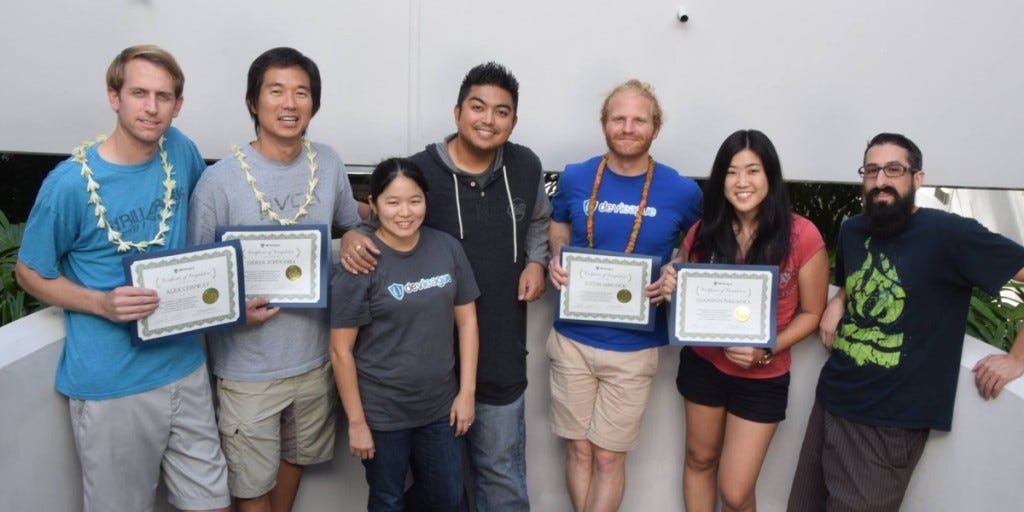 Bonus Event: Before Dev League graduates take centerstage at WetWare Wednesday, the HTDC is also hosting an "Entrepreneurs Journey" event earlier in the day at the Manoa Innovation Center. From 2 p.m. to 3:30 p.m., HTDC Executive Director and CEO Robbie Melton will interview Emaley McCulloch of Autism Training Solutions. Her company was courted by many other firms, and was acquired by Relias Learning last year. "She'll share lessons learned, like what she would've done differently if she had to do it over again, and how she managed her staff during the process," notes the event page. "After the interview, there will be time for Q&A as well."
Updated with statistics provided by Russel Cheng. Photos courtesy Russel and Dev League on Facebook.