Workshops Launched for Drone Racing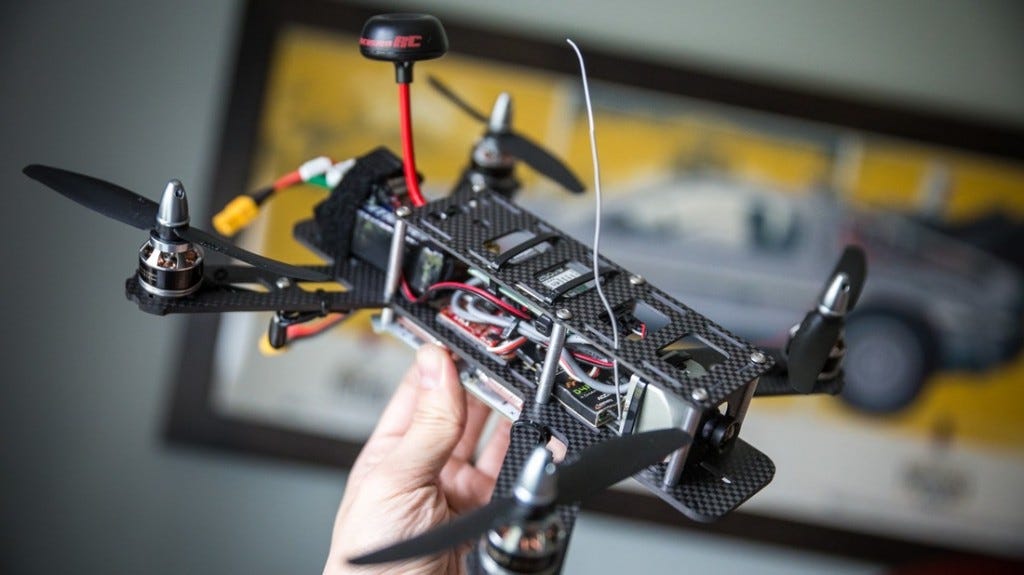 Flying a drone to take pretty pictures is nice and all, but it doesn't take long before quadcopter pilots want to take things to the next level.
Drone racing is the Formula 1 sport for geeks, eschewing the silky smooth stability of UAV-based photography and videography for high-speed, agile flying. But racing drones still put their cameras to good use, providing pilots with a first-person view (or FPV), giving them the exhilarating perspective aboard the drone as it darts through the air, around obstacles, and hopefully past rivals.
Star Wars fans will find it hard not to compare the experience to a speederbike chase.
https://www.youtube.com/watch?v=6zDDsX5xYcA
This decidedly geeky "sport of the future" is taking root in Hawaii. It was demonstrated recently at the second annual Honolulu Mini Maker Faire, and plans are in the works to form teams, establish different courses, and even organizing contests spanning the Pacific.
"People are getting tired of just flying around and taking pictures, and this is something that really allows them to fly with a purpose and be competitive," says Ryan "Sal" Salcido, founder of the Hawaii Drone Club, which was formed earlier this year. "First person view allows racers to basically fly like they are in the cockpit... it's like a real virtual video game."
Indeed, there are plenty of videos of drone races (and drone race crashes) out there, and Hawaii can offer a much more compelling backdrop than the usual forest fare.
"The drone club is working to try and develop a 'circuit' of different tracks here around the island," he adds. "I have created a endurance race that I call the Akamai Racer X Prize for the first person to complete all eight island drone endurance races."
It's enough to whet any flight or gadget geek's appetite. But what if you don't yet own a drone, let alone know how to fly one?
Salcido's Hawaii Drone Academy has you covered, with a new Quadcopter Racer Workshop starting next month. The eight-hour class will teach you how to build your own racing drone (based on the QAV250 Mini FPV Quadcopter frame) from provided parts, learn to fly it, then take it home, ready to enter the next drone race.
Salcido notes that most online kits to build racing quads don't include the FPV system or a transmitter, assuming they're going to be used by experienced pilots. The drones that will be built in the workshop include "basically everything you need to fly that day."
"This one-day workshop will provide you with all the knowledge, materials and know-how to get out on the track and enjoy this new hobby, guaranteed," he says.
The cost is $599 (with a $250 deposit), which is an impressive deal given what most popular quadcopter rigs cost. And it's impossible to put a price on the included personalized instruction (each workshop will have at most four students), and a solid introduction to the local drone flying scene.
"It includes literally everything, and I'm barely making a profit," Salcido notes. "This is just a brainchild now, but the goal is to have one every month or so."
For more information or to sign up, visit the workshop information page on the Hawaii Drone Academy website, or the Facebook event listing for the first workshop on Aug. 1. Today was the deadline to sign up, but if there are still seats available, I suspect Salcido will accommodate you. And if you can't make it on that day, there's always the next month.
"The next class is TBD, but you can still fill out the RSVP form and if you can't make this class, or if it's full, I'll contact you for the next session, maybe on Aug. 22," he says.