UH Accelerator Announces Third Cohort Finalists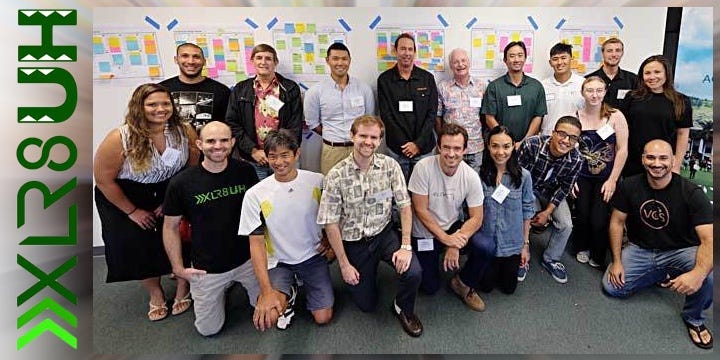 The University of Hawaii venture accelerator, XLR8UH, is now in its second year, and this week announced the finalists for its third cohort of startup companies. The diverse group is building solutions ranging from athletic coaching to scientific algorithms to tiny homes.
As finalists, the seven companies will enter the first phase of the four-month program, which provides guidance and mentorship. Phase two focuses on business development and the third gets founders ready for pitching investors. Those that complete the program could receive between $25,000 to $50,000 in initial funding, with another $100,000 in follow-on funding available.
The XLR8UH accelerator is described as a "proof-of-concept center," and is managed for UH by partner Sultan Ventures. Its mission is to invest in UH research and talent, which can include staff, faculty, students and alumni, and a unique approach among public universities.
"XLR8UH continues to lay a solid foundation for the expansion of our entrepreneurial ecosystem at UH," said Vassilis Syrmos, UH vice president for research and innovation, in the announcement. "The program is a key component to the successful commercialization of our research and to success of the Hawaii Innovation Initiative."
The seven companies are:
Elevate Structure: Elevated portable, aesthetically pleasing and eco-friendly structures that provides 6-20 times the usable space as compared to traditional construction.

DeSal Survival: A pocket-sized desalination device to produce fresh potable water for survival at sea or in emergencies.

JetSet ESL: Traveling English teaching workshops, games and activities for English teachers, and group and private lessons via Skype.

Algoritics: "Seamless collaboration for algorithm development and data analysis... the easiest and most convenient way to deploy algorithms written in Python, R, Octave, Julia, and Torch to the cloud."

Varsity Prep: "Our mission is to help Hawaii's young athletes enjoy and succeed in sports." A platform to connect students with private and small group coaching lessons.

RealGreen Power: Transforms wastewater into clean water and generates renewable, clean energy in the form of methane-rich biogas.

Hanai: "Your new friend in the city." Connecting users with local travel guides via smartphones.
"We are very pleased with the diversity of our teams and the size of problems they are tackling," said Omar Sultan, managing director of XLR8UH. "These teams have the real potential to produce substantial companies."
I previously wrote about Elevate Structure, the brainchild of Nathan Toothman, who was inspired by trees to create tiny homes and offices that can sprout over parking lots and other underused areas. And JetSet ESL (capitalizing on the charisma of traveling teacher Bianca Tubolino) and DeSal Survival (cofounded by Jonathan Gradie and Rob Yonover of the See/Rescue Streamer) were featured on last week's episode of Bytemarks Cafe on Hawaii Public Radio.
You can listen to our conversation, which included XLR8UH program manager Luke Tucker, here:
https://archive.org/download/xlr8uh-cohort-three/xlr8uh-cohort-three.mp3
For more information, visit XLR8UH.com, connect with XLR8UH on Facebook, or follow @XLR8UH on Twitter.
https://vimeo.com/105407801