Discover more from Hawaii Bulletin
Island innovation in focus. Hawaii-based science, technology, startups and entrepreneurs, featuring local leaders, creators, educators, and more.
Over 5,000 subscribers
Eight Hawaii Spots Make Yelp's Top 100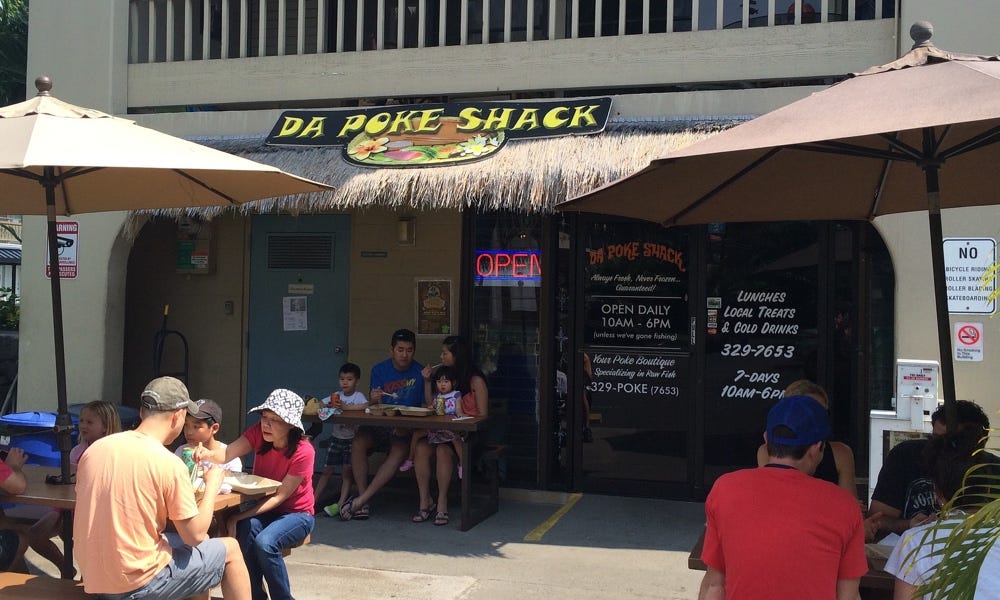 Hawaii may no longer hold the top spot in Yelp's foodie rankings, but eight island restaurants made the Top 100 Places to Eat list for 2015, four of them marking their second year on the roster.
Last year, Da Poke Shack in Kailua-Kona ranked first in Yelp's Top 100 list, an honor that sparked a fair amount of surprise, delight, and skepticism across the gastrosphere. Even my coworker and I couldn't resist checking it out on our next trip to Hawaii Island (and it was pretty good).
"Engineers on Yelp's data mining team used a technique based on the Wilson Score to compile a list of highly rated places to eat," Yelp explained. "This method takes into account both star rating and number of reviews to reveal which spots not only have top notch ratings, but also which are most popular in the Yelp community."
As fancy as the data analysis sounded, though, the data in question came from Yelp users, making the Top 100 Places to Eat list only as meaningful as you find Yelp reviews in general. But if you still haven't entirely given up on "the wisdom of the crowd," it's interesting to see what places made the cut.
The highest ranking Hawaii restaurant this year was Ono Seafood, climbing to 5th place from 11th place last year. Da Poke Shack was still on the list, but it was quite a fall from first place to 51st. (Fame is a fickle food, indeed.) The eatery that saw the biggest boost was Dat Cajun Guy in Haleiwa, climbing from 77th to 11th. The other repeat honoree was Marukame Udon, slipping a bit from 41st to 53rd.
It should be noted that last year's list, the first year the list had been compiled, was derived from Yelp's entire database. For 2015, freshness was a factor.
"This time Yelp's data science team gave more weight to recent reviews, so that Yelpers' opinions in 2014 mattered most, while older reviews had less influence on the list," Yelp explains.
Here are the Hawaii restaurants that made the list this year:
5. Ono Seafood – Honolulu, HI 6. Shark Pit Maui – Lahaina, HI 11. Dat Cajun Guy – Haleiwa, HI 27. Lahaina Luna Cafe – Lahaina, HI 51. Da Poke Shack - Kailua Kona, HI 53. Marukame Udon – Honolulu, HI 71. Your Kitchen – Honolulu, HI 91. Tanioka's Seafoods & Catering – Waipahu, HI
And from last year:
1. Da Poke Shack, Kailua-Kona, HI 11. Sushi Izakaya Gaku, Honolulu, HI 18. Ono Seafood, Honolulu, HI 39. Opal Thai Food, Haleiwa, HI 41. Marukame Udon, Honolulu, HI 50. Geste Shrimp Truck, Kahului, HI 73. Ono Tacos, Lahaina, HI 77. Dat Cajun Guy, Haleiwa, HI 82. Pono Market, Kapaa, HI 95. Sushi Sasabune, Honolulu, HI